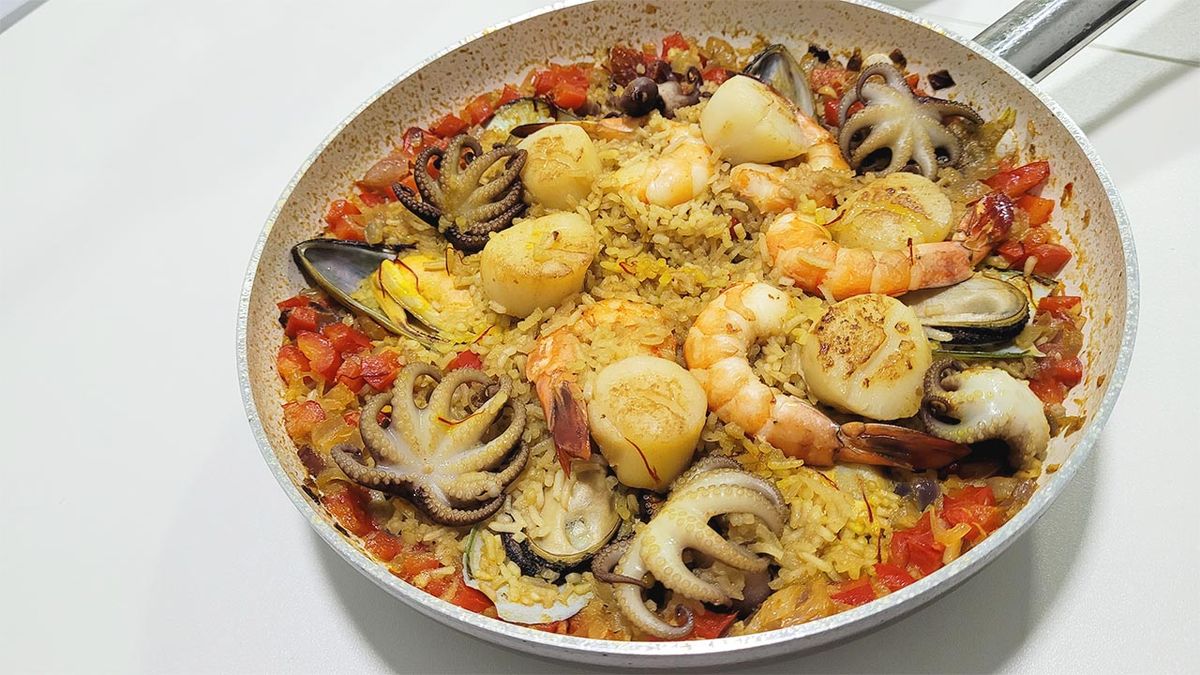 This is our favourite recipe so far! Our home cook Wally (from Wandering Wally) took a set of seafood - Mussels, Baby Octopus, Tiger Prawns and our L sized Canadian Scallops to make this wonderful one-pan dish. On top of that, he also used our Sarawak Wild Rice as the basis of this delicious Seafood Paella dish!
Originally from Spain, this dish is typically made in a flat pan with a nice crispy crust at the bottom but for home cooking, may not be easy to achieve but even if without it, it is good too.
If you would like to see the full recipe, check them out on his website. Let me share with you the steps of making this delicious dish:
Sear the scallops first - not truly necessary but I like mine with that caramelization flavour from that sear

Once done, remove and set aside. Then in the same pan, heat more oil and start sauteeing the garlic, chopped sun dried tomatoes, shallots, onions and bell peppers for a few minutes, till slightly soft

Then stir in the smoked paprika before pouring in the prawn broth

Once the broth starts simmering, pour in some wine and let them simmer a while more

You can now then pour in the washed rice and give it a little stir before bringing it to a boil

Once boiling, you can now start laying all the seafood on top – put those beautiful mussels, baby octopus, prawns and scallops

And finally, sprinkle the saffron all over and let it bring to a simmer

Let it simmer for about 30 minutes or until the rice is fluffy. If the pan dries up, you can always add in more water

Once the rice is cooked, your seafood should be done too.

Sprinkle some salt on top and it's ready to Serve!
Check out Wally's full recipe at his website or watch the video at Harvest and Catch's YouTube channel!
About Wally
Food and Travel are what I love and are passionate about. Therefore, this is what Wandering Wally is all about. My name's Wallace or you can call me Wally. I love to eat, I love to cook and I love to travel. I hope you will enjoy my blog as much as I have fun writing them.
Check out all my related links here: https://linktr.ee/wanderingwally